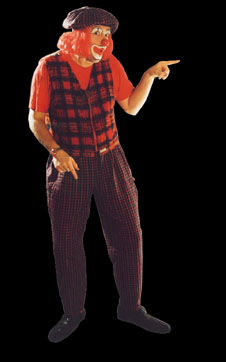 Clown Aha / Klovnen Aha
lots of fun, lots of shows, lots of traditional clowning, mime & gags, comic juggling, childrens magic as well as lots of different balloonfigures (1.001 different balloon animals, balloon flowers, balloon hats etc.)
masser af sjov, masser af show, masser af traditionelle klovneri, mimik & gags, komisk jonglering, børnetrylleri samt masser af forskellige ballonfigurer (1.001 forskellige ballondyr, ballonblomstre, ballonhatte osv.)
Je parle francais, ich spreche Deutsch, ik spreek nederlands taal, jeg taler dansk, jeg snakker norsk, puhun suomea, jag talar svenska & I speak English, (празднование дня рождения?) я говор ю немного по-русски & I have learned some habibi-arabic.
Clown Aha in action in Greenlands 2.biggest town, Sisimiut, at the harbour party some years ago:

Klovnen Aha i Grønlands 2.største by, Sisimiut (Holsteinborg) ved havnefesten for nogle år siden:

Hocus-pocus - the able is gone!